Samhain Vegan Chocolate Pumpkin Bread
Our Samhain scent has notes of Pumpkin, Vanilla, Cinnamon, Ginger, and Clove, all ingredients in our favorite seasonal bread. We adapted this recipe from
Chloe Flavor: Saucy, Crispy, Spicy, Vegan
by Chloe Coscarelli.
Chocolate Chip Pumpkin Bread
Ingredients
2 cups Flour
1 cup sugar
1 teaspoon baking powder
1/2 teaspoon baking soda
1 teaspoon salt
1 tablespoon pumpkin pie spice
1 cup pumpkin puree
1 cup coconut milk
1/2 cup vegetable oil
2 teaspoons apple cider vinegar
1 tablespoon vanilla extract
1 cup vegan chocolate chips
Preheat the over to 350F. Lightly grease a 10x5 inch oaf pan with vegan butter or coconut oil. 
In a large bowl whisk together the dry ingredients except the chocolate chips. In a medium bowl mix together wet ingredients. Add the wet ingredients to the dry and mix until just combined. Fold in the chocolate chips. 
Filled the greased pan with the batter and smooth the top. Bake for 45 minutes, or until a toothpick comes out clean. 
Let cool before unmolding. 
Our promise is to create high quality, plant-based home fragrance products that are safe for people, pets, and the planet.
- Karla & Shawn, Founders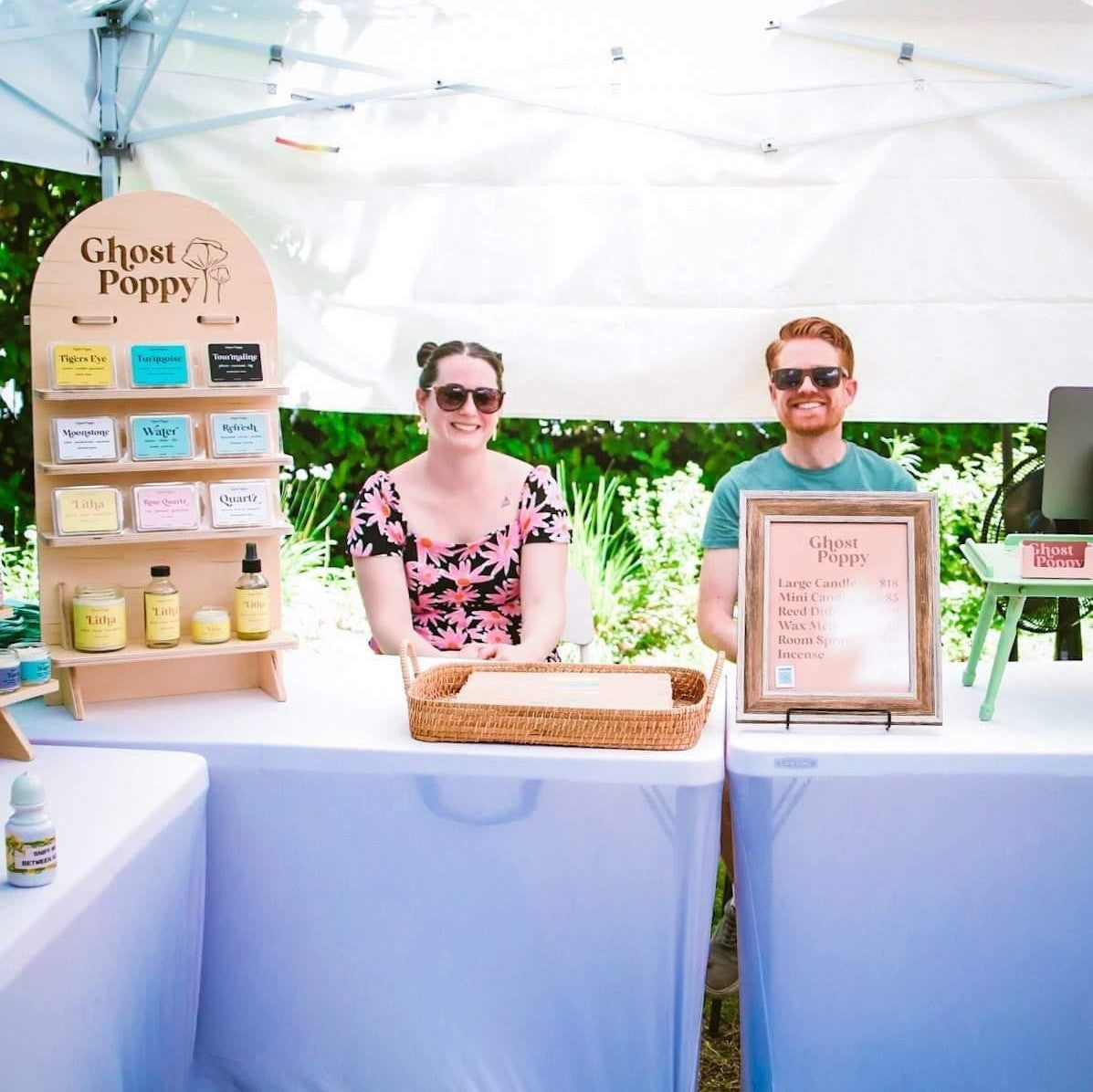 Meet Karla & Shawn, Ghost Poppy Founders
Ghost Poppy was created in 2017 by Karla in her San Diego Kitchen. After years of pursuing Ghost Poppy as a side hustle, Shawn & Karla took the plunge in 2022 and made Ghost Poppy a full-time family business.
Our products
All Ghost Poppy products are vegan, cruelty-free, and phthalate-free. Our bases and fragrance oils are paraben and sulfate free. Our room spray base is wildcrafted and organic. Our candles are made with 100% domestically grown soy wax. All Ghost Poppy products are developed, produced, tested, packed, and shipped by Shawn & Karla.